When it comes to finding the best gifts for your sister in law, few know how to make a splash quite like American actor and retired professional wrestler Dwyane Johnson.
This Christmas, Dwayne Johnson's sister in law was surprised with nothing other than a new Cadillac SUV as a Christmas gift. On a video posted to Instagram, he shared that his sister in law was "the most loving, supportive and coolest human [he] could ever ask for…from day (one)."
Of course, the best gifts often don't come with a hefty price tag, or in the form of a shiny new car.
On one woman's 25th wedding anniversary, it was her sister in law who saved her from nearly drowning–a perfect gift she will never forget.
Most of us don't have such dramatic stories: in fact, many struggles just thinking of gifts that their sister in law would like. For those who are more distant with their sister in law, or for a new sister in law, it can be especially daunting The good news is that you don't have to have a triumphant story or celebrity sized budget to find some of the best gifts for your sister in law.
In this article, we'll cover gifts at a variety of price points and types so you'll be sure to find something that fits your future sister (in law's) lifestyle.
Here are the best gift idea selections we curated in this gift guide:
1. Beauty and Body Care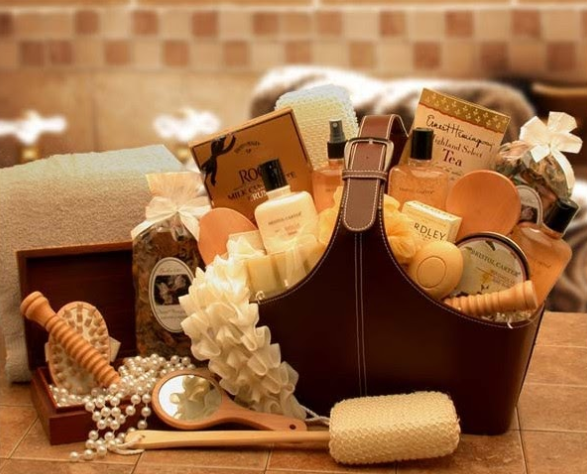 Life can be hectic, and one of the best gifts you can give your sister in law is one that helps her relax and spend some time with herself. Beauty and body care products can be a way to help her boost her confidence and self care.
Lotion and Skin Care Gift Set
As long as your sister in law doesn't have any known allergies, lotion and skincare set is a fairly safe bet and will be useful year-round. Make sure you opt for one with quality ingredients that are well-reviewed, and from a respected company. Softer scents, such as vanilla, tend to be gentler than highly floral scents.
Origins Bestsellers Best Skin Set
This skincare and lotion set, available through Sephora, is suitable for all skin types and skin problems. The set is meant to cleanse and balance skin with lightweight moisture and hydrating lotions. It also comes with a Charcoal mask and contains no sulfates, and many other ingredients common in cheaper beauty products. Buy here for $29.99.
Philosophy Happy Birthday Set
This two-piece set features cheery, bright packaging with a birthday message, in a pleasing vanilla scent. This includes both lotion and shampoo/body for soft moisturizing in and out of the shower As with all Philosophy products, there are no sulfates, plastics, parabens, silicone, or synthetics. Buy here for $20.00.
Spa Kits
Even if you're a sister in law isn't one to spend time at a spa, or maybe especially if she isn't, at-home spa kits offer moisturizing treatment and another opportunity for self-care. ALWAYS a great gift idea! Plus, they tend to come with nicely presented packaging.
A Day Off Spa Gift Basket
This gift basket will give your sister in law a feeling of going to the spa without having to leave her home, with a pleasing variety of lotions, bath salts, bath bombs, and comfy slippers. Lavender and vanilla scents are both pleasing and calming, for a well-reviewed basket from Wine Country. Buy here for $49.95.
Spa Perfect Relax and Rejuvenate Tote
 If you have a larger budget or want to group gift, this offers a generous assortment of products for your sister in law featuring skin moisturizing essential oils. Lotion, spray, body gel, body butter, body scrub, and aromatherapy candles are packaged in a faux leather tote. You'll also get herbal tea, coffee, and a foot and back massager. Buy here for $103.00 to $116.99.
2. Home Decor

Something personal to spruce up your sister in law's home is a nice personal touch without feeling overdone. These are good gifts especially if your sister in law just moved or is planning on moving, but even helpful for a sister in law who has an office space that could use some personal cheer.
Mugs/ Glasses with Humor
If your sister in law has a sense of humor, a custom mug (coffee mug, etc…) or wine glass can be a way to spruce up her morning coffee or glass of Merlot. Of course, these gifts are best reserved for a sister in law whose humor you know and understand.
I Smile Because You're My Sister-In-Law, I Laugh Because You Married My Brother Mug
 A quirky saying for a playful mug (a great gift for the humorous side). A bestseller on Etsy, the script is pleasing and whimsical and the 11oz ceramic mug also comes with a white or maroon handle. Buy here for $10.99.
Sister in Law Unicorn Mug
Especially suited for a sister in law who loves horses and fantasy, but for anyone who appreciates an offbeat complement, this high-quality mug lets her know you think she's one of a kind. Vibrant colors and printed on both sides of the mug, it's dishwasher and microwave safe and can hold up to eleven ounces. Buy here for $14.99.
Sisters By Marriage Friends By Choice Wine Glass
If you're quite close to your sister in law but aren't sure what to get, or simply want to show your appreciation, this wine glass is a great way to do so. Glitter and black script make for a celebratory glass; you also have some options for customization. Buy here for $14.00.
3. Around the Home

Whether it's for home or office space, steer away from generic gifts and go for custom decor. Especially good ideas include gifts that can double as both decors and for practical use.
Sister-In-Law Funny Meaning Noun Fun Sister Gag Gift Throw Pillow
While best for a sister in law with a sense of humor, this throw pillow has a sweet message and feels contemporary and striking, while being simple enough to go with most room styles. This wonderful gift is made out of 100 percent polyester, with a zipper for easy cleaning and bold white print. Buy here for $24.51.
World Map Travel Push Pin Map of the World Wall Art Wanderlust Home Decor
 For the ambitious traveler or a sister in law who seems to have everything, this bold and unique map of the world is the ideal gift for someone who has empty wall space to fill. Handcrafted wood, is available in multiple sizes, with customization options and suits both modern and traditional rooms. Buy here for $75.00.
UGG® Classic Sherpa Throw Blanket
 For something cozy and perfect for cuddling up in during a cold season, this highly-rated throw blanket is a step up from a typical blanket. Available in soft colors, including grey, navy, sesame, redwood, and ceramic, the sherpa face provides an added layer of warmth and it's also machine washer friendly. Buy here for $49.99.
4. Jewelry and Accessories
Jewelry need not be expensive to be meaningful. Shy away from expensive gifts and instead opt for something that's personal (personalized gift) and will show that you care about your sister in law.
Sister-In-Law Gift Necklace
 Although ideal to give as a wedding gift, technically this necklace could work anytime to show how much you appreciate having her in the family. The necklace features a delicate but sturdy chain that can be ordered gold, silver, or rose gold plated, and a centerpiece pendant with a compass representing a shared bond. The necklace comes with packaging that has a note to your "bonus sister" and expresses how much you appreciate having her in the family. Buy here for $36.00.
Pearl Sister and Law Necklace
Sterling silver or 14k gold chain connects a simple pearl, meant to represent a bond; pearls are also symbolic of resilience and strength. You can select from a white or gray pearl (synthetic) for a classic look that will go with just about any style. A bestseller on Etsy, and comes packaged with a message to your sister in law. Buy here for $29.90.
Sister in Law Charm Bracelet
This charm bracelet features a pendant addressed to your sister in law, with glass pearl, rhinestone, and bicone beads. While most pearls are white, you select three pearls in the color of your choice. The bracelet comes packaged in a gift box and is also a bestseller on Etsy. Buy here for $16.16.
5. Everything Else

Of course, there are countless other categories of gifts you can give your sister in law. Most of these depend on your sister in law's specific hobbies and interests, as well as what you feel best represents your relationship. Here are a few other ideas:
Gift Certificates and Experiences
 Instead of just opting for a generic visa gift card, go for something specific to hobbies and activities your sister in law would enjoy. From booklovers (Half Price Books; Barnes and Noble) to coffee fiends (Starbucks; Peet's, Dunkin' Donuts); or even gamers (Gamestop; Steam; Origin) a gift card is sure to be appreciated.
Supplement with a small personal gift and or note, or make into a themed basket. Also consider certificates for trips, outdoor adventures, and more. If you don't have time to shop for gift cards in person, or are buying for a store, not near you, buy a wide variety of gift cards on Giftcards.com.
Tech Gifts
Whether your sister in law enjoys music or streaming, consider gifts to help her have some time to her own, from headphones to smart services like Alexa. If you have a tighter budget, quality earbuds, a sketching smartboard like Buddha, or even a simple charging station can be helpful at home, at the office, and on the go.
Where to Buy
You can buy any of the gifts we mentioned by following the links above. You may also consider looking in local gifts shops for small add on gifts.
How do I find the best gifts for my sister in law?
Finding gifts for your sister in law may take some time, but we have you covered. Even if you aren't very close or familiar with your sister in law's tastes, there are plenty of gifts that are appropriate, can still feel personal, and will be well received.
In this list, we'll be breaking up gifts by category. Keep in mind these gifts are not all-inclusive: if your sister in law has something specific she's been wanting, for instance, that might trump these ideas. But if you're looking for the best ideas and you're short on time, read on.
FAQ's About Sister in Law Gifts
How do you say happy birthday to your sister in law?
The best idea is to treat your sister in law with respect, no matter if you are close or distant. A simple wish for a good day is nice, but adding a message of how you're grateful to have her in your family is also a plus. In summary: the best way to say happy birthday is to do it simply and kindly.
What is a good gift for a sister in law?
A good gift for a sister in law depends on your relationship and her personal tastes. The budget, too, will play a role, but the most important thing is to find a gift that she will enjoy and feels personal to her. If you aren't certain about her interests, it is helpful to ask your sibling or you can opt for something like a gift card with a smaller, more personal gift.
How to pick a gift when you are not too close with your sister in law?
Coupons are definitely the best way to go if you are not too close with your sister in law. You can buy her a spa retreat or massage coupon or find her favorite store and get her a voucher so she can shop from there.
Recommended Reads: